Hey everybody!
Took a minute to get this post together as I have been spending a great deal of time chasing my new Roomba around trying to keep it from destroying things, and I have been otherwise distracted. But as you can see from the picture I received my contributor copy of the Strangely Funny VIII anthology edited by Sarah E. Glenn the other day, containing my story "Parts" in all its weird, wacky glory — here's a snippet: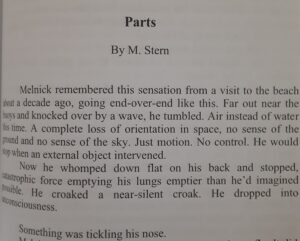 What could possibly be tickling our hero's nose and why? The answer to that question just might tickle YOUR nose — or your funny bone, or even another part of you where you're ticklish I guess — but you have to read it to find out! So snag a copy of the anthology in print or e-book today and dig in.
Which brings me to a quite exciting and unexpected development. You may have wondered why my copy of Strangely Funny VIII pictured in this post is sitting next to a speaker.  Or maybe you didn't wonder that at all, but I will tell you why — it is because there is now …
Music inspired by the story "Parts" by M. Stern
In a surprise so awesome that it knocked me on my ass, my incredibly talented buddy Rob (host of the Apocalypse Cinema podcast and member of prog rock band Hedghog and the Fox) enjoyed "Parts" so much when he read it that he composed an original piece of experimental electronic music inspired by the story's cosmically-horrific culmination. So when you read the story, you absolutely need to check out the theme for the arrival of a certain alien demigod on his SoundCloud,
Now my Roomba is blinking its light at me and it seems angry, so I have to go figure out what it wants. Take care and happy Monday everyone. Oh right and don't forget to follow me on Facebook for even more updates!
-M.