Hey everybody, M. here,
Hope everyone had a solid Halloween! Like many I'm sure, I was out and about more this Spooky Season than I have been for the past couple, though I flaked on doing a costume and, back in my apartment, my horror movie marathon was not quite long enough to be properly considered a marathon. That said, I at least got started on Guillermo del Toro's Cabinet of Curiosities. I am still making my way through it and I'm really enjoying it. I'm a huge fan of the Masters of Horror series, so I get excited about anthology shows that let auteur horror directors do their thing, especially when they're adapting from short stories. More about that at some point in the future maybe, but suffice it to say for now that del Toro walking out in a Hitchcock-style suit and doing an introduction before every episode is my kind of stuff. Anyway, on to the latest news:
Strange Aeon 2022: Hopeful Monsters out now!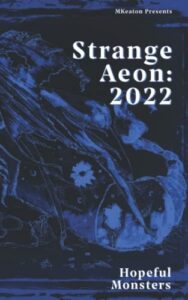 As I've mentioned elsewhere on the internet over the past few days, I'm happy to share that the Strange Aeon 2022 anthology is now available in print and e-book. This one is the third anthology in the yearly series, subtitled Hopeful Monsters. It contains my short horror/science fiction story SONG TO…
The anthology features a lineup of authors from around the world and I'm really excited to be appearing in it. I might have more to say about the story later but for now just dig that cover image right there and pick up a copy.

Startling Stories 2022 contributor copy has arrived!
My contributor copy of the 2022 edition of Startling Stories arrived in the mail the other day, containing my story of adventure, danger, and deduction on the weird magnetic planet Rygiat, PHARMAKON, PHARMAKON.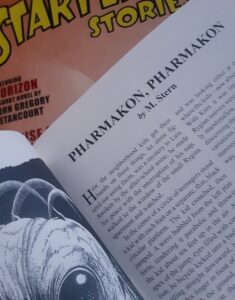 I have to say I was completely blown away to actually see the illustration for the story (by award-winning artist Vincent Di Fate, in the style of the late, great original pulp artist Virgil Finlay) there in black-and-white. You can only see part of it in the picture as I am not very good at taking pictures, but this one is a full-page illustration and looks amazing (you can view the entire image here). And besides the one for my story, there are a ton of other awesome original illustrations to be found therein, including art by Bob Eggleton and Alan Kozlowski.
But the incredible art is just the beginning! The issue really is packed with so much cool stuff that I'm having trouble figuring out what to highlight; you've got a new short story from cyberpunk progenitor, musician, The Crow co-screenwriter, and sometimes Blue Öyster Cult lyricist John Shirley not to mention an exclusive interview with him conducted by Darrell Schweitzer. You've got a bunch of other brand spankin' new sci-fi adventures. You've got a hard- if not impossible-to-find comic from the original pulp era. You've even got a reprint of a classic Feghoot! So grab yourself a copy if you haven't already and get startled!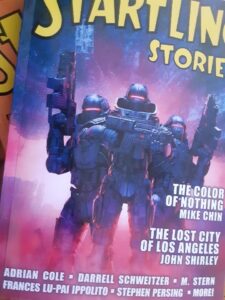 It seemed appropriate to picture this issue next to the 2021 issue of Startling — the first relaunch issue — which contains my twisty, turny, virusy, tech-catastrophe-y, German grammar lesson-ey perception bender PAYLOAD, a story that could not be more different in tone from PHARMAKON, PHARMAKON I don't think, but that is well worth giving a spin if you haven't read it — it even made the Tangent Online 2021 Recommended Reading List (as did my story BIRTH from Weirdbook #44.)
Anyway that should get us all up to date on what I had going on in late October. Take care everyone!
-M.