Hey everybody, M. here,
Just a couple of quick updates. First off…
New story slated for publication in the Necronomi-RomCom!
I'm happy to announce that my short story Hearts Synchronize will be appearing in next year's Necronomi-RomCom anthology. The collection is being curated, edited, and published by the wonderful Gevera Bert Piedmont (author of the Mickey Crow Paranormal Adventure Series) through her indie press Transformations by Obsidian Butterfly.
The story, as you might expect from the title of the anthology, is a Cthulhu Mythos rom-com. If you've read some of my stories in Lovecraftiana and the one I have in the From Beyond the Threshold anthology, you might have already realized that I've got sort of a thing for mashing up cosmic horror with romantic comedy, so I'm really excited to have a story appearing in this anthology dedicated to the concept. The anthology is scheduled for summer of 2024, and I'll be posting more details as they come!
Author copy of From Beyond the Threshold has arrived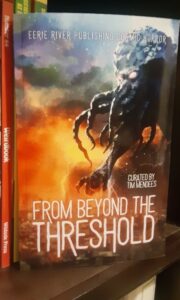 I forgot to post about it here last month but I did mention over on Facebook (where you can follow me if you haven't already!) that I received my author copy of From Beyond the Threshold from Eerie River Publishing. As you can see from the picture of it there on my shelf, it's an excellent looking book. It's got the contents to match, too–I'm nearly done reading it and I'm particularly digging:
Corpora by J.L. Royce, which incorporates natural language processing, brain implant technology, and ancient texts into something reminiscent of Altered States;
The Well by Georgia Cook, an atmospheric, isolated tale, that is distantly rural but nevertheless brought to mind the highly urban all-star ensemble horror flick The Sentinel with a solid twist, and;
Phantasmagoria by Tim Mendees himself, who once again nails the feeling of classic Victorian period horror along the lines of The Asphyx in a Lovecraftian jaunt through Ripper Country, while incorporating his characteristically dead-on wry sense of humor, a couple of mustachioed inspectors out of a Hitchcock film, and no small helping of stomach-roiling gore.
Those are three that popped out in my head right off the bat, but there are plenty of other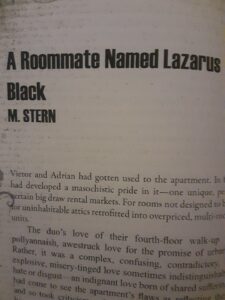 bangers in there (including one by John A. DeLaughter, whose name you'll recognize from the cover of the most recent issue of Lovecraftiana) so pick up the anthology in print or e-book and get into it.
I should also mentioned that Mr. Mendees, who curated the collection, has an  article up on the British Fantasy Society website about the use of comedy in horror that has some nice observations and is worth a read.
And to get a hint of what you have to expect from my tale of urban dwelling, pests, and the desperate search for a roommate gone cosmically horrific, check out the first couple of paragraphs of A Roommate Named Lazarus Black in From Beyond the Threshold pictured to the right.
Hopefully I'll have some other news on the way sooner than later, in the meantime check me out on Facebook for more frequent updates. Take care everyone!
-M.