Hey everybody, M. here,
Just a quick note to announce that the From Beyond The Threshold cosmic horror anthology is out now from Eerie River Publishing. It contains my cosmic horror comedy A Roommate Named Lazarus Black and is available in print and e-book from Amazon, and the e-book is also available directly through Eerie River (and currently available as part of a launch sale for only $2.99 CAD, until September 7!).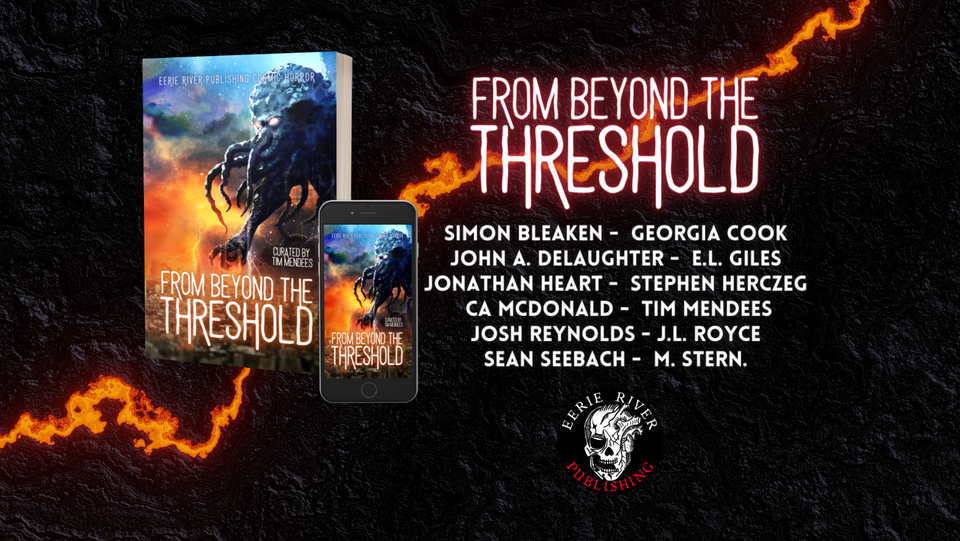 Get ready to laugh until you scream, then scream until you laugh (then maybe barf if you're easily grossed out) at my tale of two goofballs taking on the most frightening, sanity-rattling task that one can face–a roommate search–and the maddening horror that ensues when the guy they find is a bit too perfect!
Super excited to be appearing in this anthology, the first one from Eerie River that I have been in, alongside 11 other top-notch authors of weird and terrifying tales, including the always excellent, prolific, and hilarious Tim Mendees, who curated the anthology.
Time for me to get my day started! Follow me on Facebook for more up-to-the-minute developments and shenanigans. Take care everyone!
-M.