Hey everybody, M. here,
The other day DMR Books released the cover and table of contents for the soon-to-be released first installment in the Die By The Sword anthology series, so get ready sword & sorcery fans! DMR is one of the premier forces driving the world of contemporary sword & sorcery today and I consider it a true honor to have my story The Tears of Blood appearing among the 11 new tales in this volume. As you can see from the absolutely amazing cover art right there by John Pound, you're in for the real deal with this one!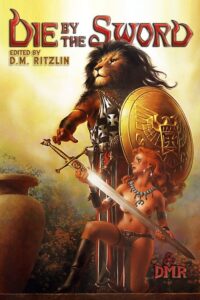 As a side note, Pound was the creative force and main artist behind Garbage Pail Kids back in the day. That series undoubtedly played a role in my developing sense of aesthetics and sense of humor when I was very, very young. As if this anthology wasn't already exciting enough! I must admit I looked a bit like Adam Bomb (or perhaps his twin Blasted Billy) when I found this out.
More on my story later, and you won't have to wait much longer–the anthology is on the way in May. That means this May will be a month for magic and mayhem like no other! Keep your weapons sharp, your eyes wide open, and prepare for adventure!
-M.