Hey everybody, M. here,
My piece of horror flash fiction titled "The Singular" placed in Cosmic Horror Monthly's Micro Madness contest and is slated to appear in the January issue of the magazine, and will be available online shortly before that.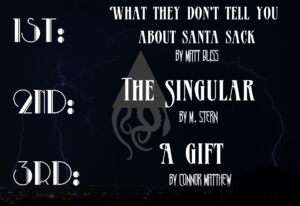 I have to say that I am completely thrilled to be making an appearance in CHM — it has quickly become one of the coolest, slickest looking weird fiction magazines out there.
So while you're waiting to get your hands and eyeballs on my quick and crazy tale of evil aesthetes gone even eviler, check out the CHM website! They've run some absolute scorchers in the past couple of issues and I highly recommend that any horror fan grab a copy.
Hope those in the U.S. had a good Thanksgiving — follow me on Facebook and you can see the Cthulhu cookie I decorated in celebration of this heartwarming holiday. Take care everyone!
-M.