Hey everybody, M. here,
I have had a few stories come out over the past few months, and it just struck me that I have not yet posted pictures on this blog of the physical copies. I should have a contributor copy of the new Startling Stories on the way soon, which contains my most recent story PHARMAKON, PHARMAKON, and I'll share some pictures of that one when it lands. But before that, here are some pics of the publications containing my other most recent work to come out in print (or get reprinted):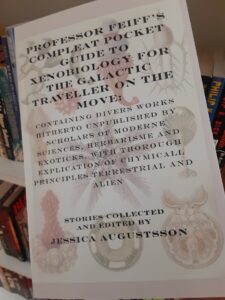 First off, here is Professor Feiff's Compleat Pocket Guide for the Intergalactic Traveller on the Move, which contains my story A DAZZLING WORLD.
The story is one which, as I mentioned over on Facebook a while back could probably be considered a "green goo" story, albeit one that depicts an infinitely more multi-colored apocalypse than what the moniker green goo conjures (or, for that matter, "gray goo," the theoretical nanotech problem from which the term green goo is derived).
And did I mention that the central xenobiological conceit in this story is an insect that maybe, maybe has never before appeared as the foundation of a sci-fi horror story before? Though don't get me wrong, I am very hesitant about actually claiming to be the "first" of anything in fiction at this point in human history.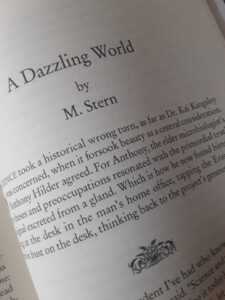 Anyway, going any deeper into what exactly is going on in A DAZZLING WORLD would amount to dropping significant spoilers, so if you want to see what ostensibly non-scary insect I wrote a scary story about, pick up a copy of the anthology and dig into it.
I've been making my way through reading this one myself, and I am finding that it contains a fun and wildly varied array of stories about equally varied flora and fauna, alien and otherwise. At the end of each story, you're already wondering what the next weird animal, plant, or combination of the two is going to be, and it keeps it moving.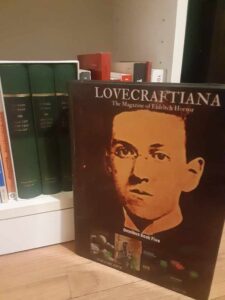 Second, here's a picture of the hardcover edition of Lovecraftiana: The Magazine of Eldrich Horror Omnibus #5, which came out in July. As you can see it's a titanic tome, so big that it makes the first three volumes of Edward Gibbon's Decline and Fall of the Roman Empire look almost modest by comparison. It contains four 2020-2021 issues of the magazine, and thus contains a reprint of my story AFTER THE AFTER PARTY, which originally appeared in the 2021 Candlemas 2021 edition.
I gotta say this big volume looks nice as hell on the shelf, it's pretty austere looking even on top of the stone-serious looking HPL there on the cover. And the inside layout is really nicely done as well.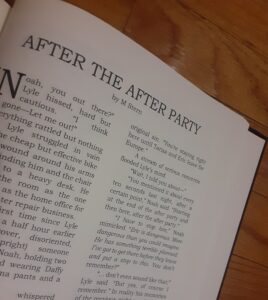 So grab yourself a copy if you happened to miss the Candlemas 2021 issue, or even if you didn't (I have heard people talking about actually collecting the big volumes because they look so substantial on the shelf).
And as I have mentioned here and elsewhere, I am slated to have two stories appear in Lovecraftiana next year; first up will be my Lovecraft Mythos story THE STUDY OF WORMS early in 2023, which is brimming with weird science, occult ritual, thrilling adventure, and blood. Then later in the year, my eschatological romantic dramedy SOMETHING MISSING will hit the shelves. That one takes place mostly in a suburban mom-and-pop restaurant and has a lot of stuff about metaphysics and hermeneutics in it. So get ready.
More on both of those and more coming soon, take care everyone!
-M.