Hey everybody, M. here.
I don't have a ton of news to share, as the pace of a lot of projects has of course slowed for a lot of people lately due to the pandemic. One noteworthy development, however, is that Wildside Press released the prospective covers for the next six issues of Weirdbook the other day.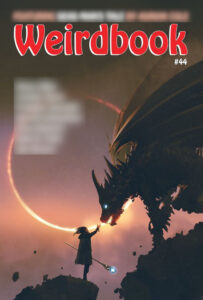 They all look amazing, and since my story Birth should be appearing in issue #44 I'm posting that one here. Since the names on the cover are not yet finalized according to editor Doug Draa, I've blurred them. But that notwithstanding — cool, huh? I've still got no idea about a potential release date for this or any of the other Wildside magazines, though last I heard Weirdbook #43 had entered the proofing process.
I had intended to get out at least one more blog's worth of reviews about end-of-the-world-themed movies done for M. Stern's Short Ends over the past couple of months. In the first two, I had been sort of tongue-and-cheek about the notion that watching depressing movies under these circumstances ran the risk of driving me nuts. In fact after watching Lars Von Trier's Melancholia and 1959's grim nuclear fallout drama On The Beach back-to-back, I found that it actually was impacting me emotionally in a way that movies usually don't. So I've chilled out on that, though both of those films are incredible and well worth writing about. Maybe I'll give my 2 cents on them once I'm able to again hear "Waltzing Matilda" without bawling.
I had also considered maybe reviewing some of the horror that has been streaming online in recent months — the indie horror circuit has really stepped up during the pandemic, with fans and festival organizers alike finding creative ways to get all sorts of weird and wild stuff, new and old, to a remote audience. I got sidetracked from doing that though, as my level of concentration has been — as I am sure is fairly universal — completely shot to hell.
This also speaks to my level of productivity with regards to fiction. I've been working even slower than my usual snail's pace — though I do have a story or two I've been chiseling away at (and few others out there in the ether).
Given that there is no telling what things will look like a few months from now — good, bad, or indifferent — I'm hesitant to talk about future plans too much. But every year in October I see how many horror movies I can watch, and how many reviews of them I can write up. This year I want to try to do that publicly — here — instead of posting them on my private social media like I usually do. I also hope to make another appearance on my buddy Rob's horror movie podcast at some point — where I will aim to do significantly less rambling than I did the last time he was gracious enough to have me on.  At any rate, if and when any of that happens, hopefully things are less terrifying and depressing by then. Take care everyone.
-M.