Hey everybody, M. here,
Just a quick recap of what I've had going on lately. For those who have not yet seen this in all its print glory, I got my copy of Cosmic Horror Monthly #19 in the mail right as I was ringing in the New Year (which is to say, hiding in my apartment while the New Year happened around me).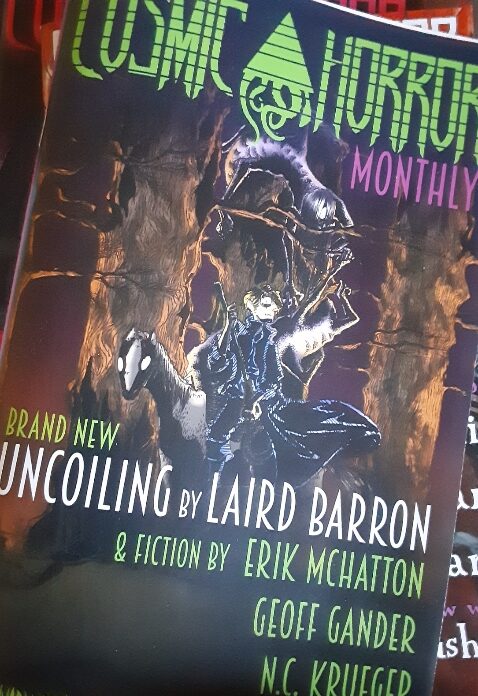 As you can see from the picture, this is one damn fine looking slab of weirdness as promised, and I can verify that the ominously pulsating innards are just as impressive. Of course I'm biased and think you should pick it up for the sake of having a copy of my flash fiction tale of ghastly gourmands and suffering shoggoths, "The Singular," immortalized in print. But there's plenty more to recommend: this issue contains a hotly anticipated Laird Barron story featuring his Coleridge/Robard duo making their debut in a new, medieval, possibly post-apocalyptic, definitely gory segment of his multiverse, Geoff Gander's tale of an artist inspired all the way to madness by an artifact that demands sacrifice, a slice of classic-style esoteric weird fiction with a capital-W From Erik McHatton, flash fiction from Matt Bliss that infuses the Santa Mythos with the grim, eldritch horror of the Cthulhu Mythos, and more! So grab one of these if you haven't — supplies are limited!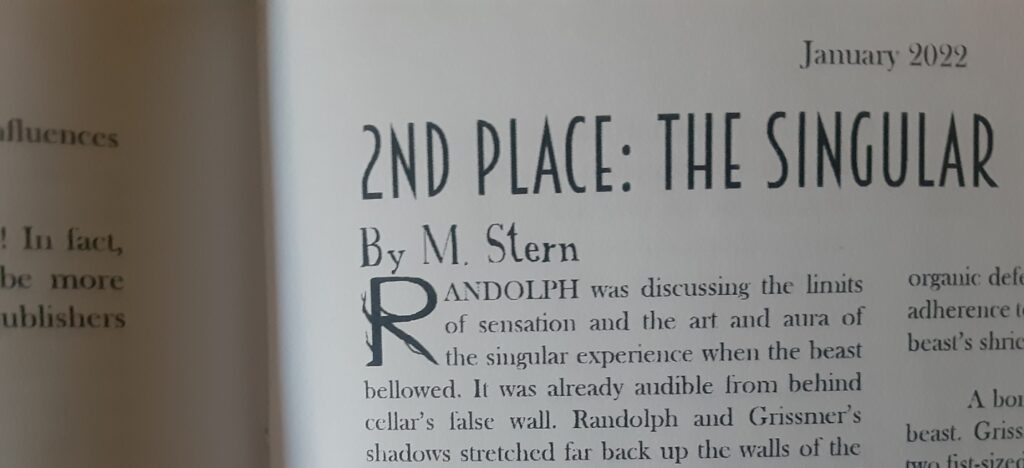 Two M. Stern Stories On Tangent's 2021 Recommended Reading List
In other news, a week or two ago I was thrilled to receive word that I have two stories appearing on Tangent Online's 2021 Recommended Reading List. Both "Payload" from Startling Stories #34 and "Birth" from Weirdbook #44 made the yearly list, which this year consists of 235 short stories, 53 novelettes, and 12 novellas selected by the critics at Tangent from the gazillions of genre fiction stories they read and reviewed throughout 2021. Much thanks to all those who dug the stories and congrats to everyone else who made the list!
Anyway that's all I got right at the moment — follow me on Facebook for up-to-the-minute announcements, shenanigans, observations, and the occasional meme. And you can also sign up for my email list somewhere on this blog (and maybe some day I'll actually start sending emails out to that list.)
Happy New Year and here's wishing everyone well in the deuce-ought-double-deuce. Take care!
-M.