Hey everybody, M. here,
I'm pretty sure just from seeing the huge response over on Facebook last week that a whole lot of sword & sorcery fans are already well aware of this news, but if you are just happening by my website and have yet to hear the battle cry echoing through the hills — I am thrilled to report that the inaugural Die By The Sword anthology from DMR Books has arrived in print and e-book.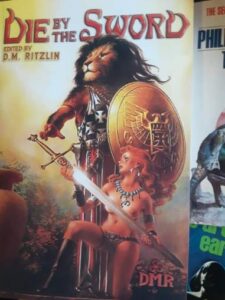 I received my contributor copy of the book the other day and I have to say that the anthology looks even more impressive in real life than even seeing the excellent cover illustration alone (by legendary Garbage Pail Kids creator John Pound) a few weeks ago had prepared me for. The book contains 11 new action-packed, blood-soaked, thrilling tales by both long-timers and new masters of the genre, and I am excited to have my story The Tears of Blood appear among them. As today's sword & sorcery devotees know, DMR represents the gold standard for fiction being published in the genre these days and I consider it nothing short of an honor to be appearing in this anthology.
As for what you can anticipate from the story, first off you can check out a little teaser from the first page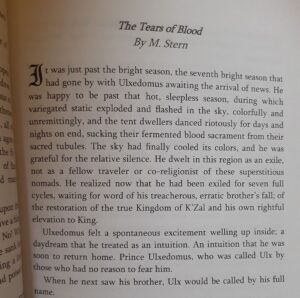 there to get your adrenaline pumping. Introduce yourself to Ulxedomus, Prince of K'Zal, and join him on his action-packed quest for vengeance through a war-torn world filled with: Bizarre creatures! Weird, otherworldly threats! Intricately rendered intrigues! Cryptic forces! And more!
So brace yourself for unexpected twists and turns, death-defying feats of swordsmanship, brutal conflict, and all-around madcap thrill-a-page mayhem. And on top of my story you've got another 10 tales to dig into and immerse yourself in–stories brimming with steel clashing against steel, barbarians going to battle, magical, mystical escapades and even heroes in enchanted armor going sword-to-fang with vampyres.
As you can see from the copy on the back cover from publisher/editor/author D.M. Ritzlin, big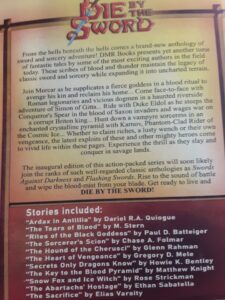 things are in the offing for this one! If Die By The Sword sells well, word has it there will be a follow up in what is currently being envisioned as a yearly anthology series–so if you can't get enough of killer new sword & sorcery and have yet to grab one of these, wield thy credit card and order now!
If you read it and dig it, don't forget to spread the word and put up a review on Amazon, Goodreads, or your blog/website. It cannot be overstated how much thoughtful reviews and public enthusiasm mean to indie authors and publishers! And if indeed you enjoy this first adventure of Prince Ulxedomus, be certain that I have every intention of revisiting the fallen kingdom of K'Zal and the weird world it inhabits. Keep an eye out!
Take care everyone, more news coming soon!
-M.